Private Teaching at the Blue Barn Studio in Kittery, Maine
Augusto has vast experience in teaching students of all ages from early Suzuki programs starting as young as 5 years of age to adults who are interested. Augusto has a special gift for working with young people, based on the Suzuki method. In addition to classical training, Augusto likes to supplement the learning experience with other types of violin and viola music, including Celtic fiddle tunes and even some jazz and rock for the teenagers.
"Augusto has tutored Sam and Casey for three years.  My kids have improved a lot.  Augusto is great.  He is very entertaining and makes learning fun.  Augusto has a very positive attitude that makes Casey and Sam feel at ease.  They are lucky to have such a wonderful instructor."

- Jon Segal
Rye, N.H.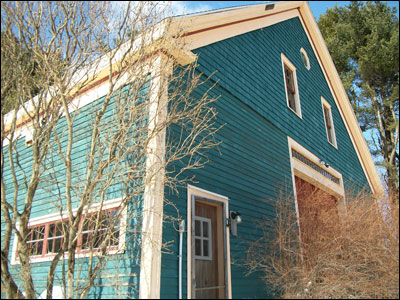 Teaching Fees
$55/hour, $45/45 minutes and $35 for half an hour. Students are expected to take weekly lessons during the school year. Other times are optional.
"My daughters have been Augusto's students for seven years.  When they began lessons, they were in 2nd and 3rd grades.   Prior to Augusto, they were struggling with music.  I wanted them to love music.  They do now and I believe it is because Augusto teaches with a true understanding of how children learn, feel about their learning, and develop skills over time.  He is the only teacher I know who brings teaching violin into the hearts of children."

Martha Eshoo
York, Maine

Coaching
Augusto is also available to coach groups of all ages to help them in their musical interpretation and performance. Fees to be individually negotiated.
Conducting
In addition to enjoying his private teaching, Augusto loves to work with ensembles of young musicians. He has founded several youth string groups throughout Maine and New Hampshire and continues to conduct the Bow Street Youth Sring Orchesta (under the umbrella of the Portsmouth Music and Arts Center - PMAC) which has continuously operated for the last 20 years.
This exception ensemble has two semesters a year - fall and spring and is combined with a preparatory group under the direction of Lynne McMahon. Students who study privately from the ages of 8 to 18 are welcome to audition.
The ensemble plays a variety of classical music of all periods from Baroque to modern composers. For example, in spring of 2011, the group will be performing the New Hampshire premier of the Concertino for Piano, Strings and Percussion by the well-known Boston-based composer, Dianne Goolkasian, who will be attending one of the final rehearsals.